You can make an impact with decorative windows and doors and still be ready for hurricane season in Southwest Florida! From geometric shapes, family crests, and palm trees, to traditional leaded and beveled glass… any design can be added to impact glass.
That window or door will not only act as home protection during a hurricane but also be a unique piece of art for your home in any season.
The benefits of hurricane impact glass are unmistakable – strength, safety, noise reduction, and protection. Impact windows can make all the difference when it comes to protecting your family, home, and possessions during a hurricane. Why not add your creative touch to what is a necessity for home protection in Florida?
At Glass Design, we take pride in offering glass projects you can't get just anywhere.
Create an entry door that really makes your home stand out from the rest on your block. Or a custom-designed pool bath door that brings a smile every time you open it to entertain on your lanai. Have a bathroom window you want to make private as well as be a work of art?
Hurricane season is about a month away. Let's explore the many benefits of impact glass and what adding a little creativity can do.
Decorative Hurricane Windows & Doors

In Southwest Florida, hurricane protection for your home is a necessity. Having hurricane impact-rated windows and doors has many benefits over having to deal with shutters. Shutters can be quite a hassle to install, especially for homeowners who do not live in our area year-round. They also normally block light and view while in place, and when they are removed, there is usually unsightly hardware left behind. Impact-resistant glass can be not just for windows, but also for lanai doors, entry doors, and sliders. Impact windows and doors will give you the same level of protection hurricane shutters do, but come with many advantages and can be custom designed and fit for your unique needs.
Impact-resistant glass windows and doors can also allow you to show your creative side!
Windows and doors do not have to be the standard clear glass. Almost any design can be installed behind impact glass. It can be textured or bubbled to add privacy or have your creative design or picture.
Security
The type of laminated glass used in impact windows and doors adds more protection between residents and intruders. Impact glass is made to withstand flying debris and hurricane-strength winds, so it should be no surprise that they are stronger than basic glass when it comes to someone trying to break into your home through a window or door. Rather than shattering and the glass falling to the ground, impact-resistant glass can crack, but the laminated interlayer will keep the glass together.
Energy Efficiency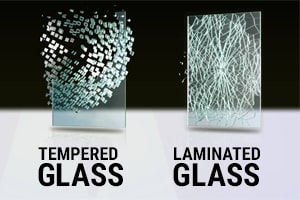 Compared to many other remodeling projects, replacing your windows and doors can provide one of the largest returns on investment. Older windows and doors tend to lack proper insulation, leading to higher air-conditioning and other utility usage and bills.
Impact glass with Low-E coating is a proven way to increase energy efficiency.
Low-E glass either has a hard coating or a soft coating, depending on when it is added during the manufacturing process. The coating is an invisible metal or metallic oxide film placed on the surface.
Low-E glass helps homes run more efficiently by minimizing the amount of infrared and ultraviolet light that shines through without minimizing the amount of light that enters homes.
The coating that is used on Low-E glass does not require any special cleaning methods and leads to less fading of curtains, furniture, and carpets.
Other options that can be added along with the Low-E option, is insulating the glass as well as adding a tint to the glass. Both of these options will add to the energy efficiency of the windows.
Another benefit: If you install new or replacement impact windows or doors that reduce your home's energy use, you can be eligible for a tax credit.
For more info about energy tax credits, click here.
Noise Reduction Benefits of Impact Glass
With windows and doors made with impact glass, you can prevent a significant amount of outside noise from entering your home. While not soundproof, your home will become much more peaceful because of fewer environmental noises.
Why Choose Glass Design in Naples & Fort Myers
Since 1996, Glass Design has been providing Southwest Florida with professional window and door designs and replacements. We understand how windows and doors can bring new design and value to your home, especially with impact glass!
Whether you want one or two windows or doors replaced or the whole house, Glass Design can help! Our Design Consultants will work closely with you to select the best solution for your home. Call Glass Design today!